Returns
Do you have 4 empty CO₂ cylinders to return or do you need to return a product from your order? This is easy to do and completely free of charge. Here's how…
Empty CUBE cylinders
Do you have 4 empty CO₂ cylinders to return or do you need to return a product from your order? This is easy to do and completely free of charge. Here's how.

The CO₂ cylinders remain the property of Quooker. With a view to sustainability and cost savings for the customer, empty cylinders will be refilled. The used empty CO₂ cylinders must be returned in sets of four only. Return shipments of just 1 empty cylinder will not be accepted or processed by Quooker. You can create your personal return label via your Quooker webshop account in your order overview.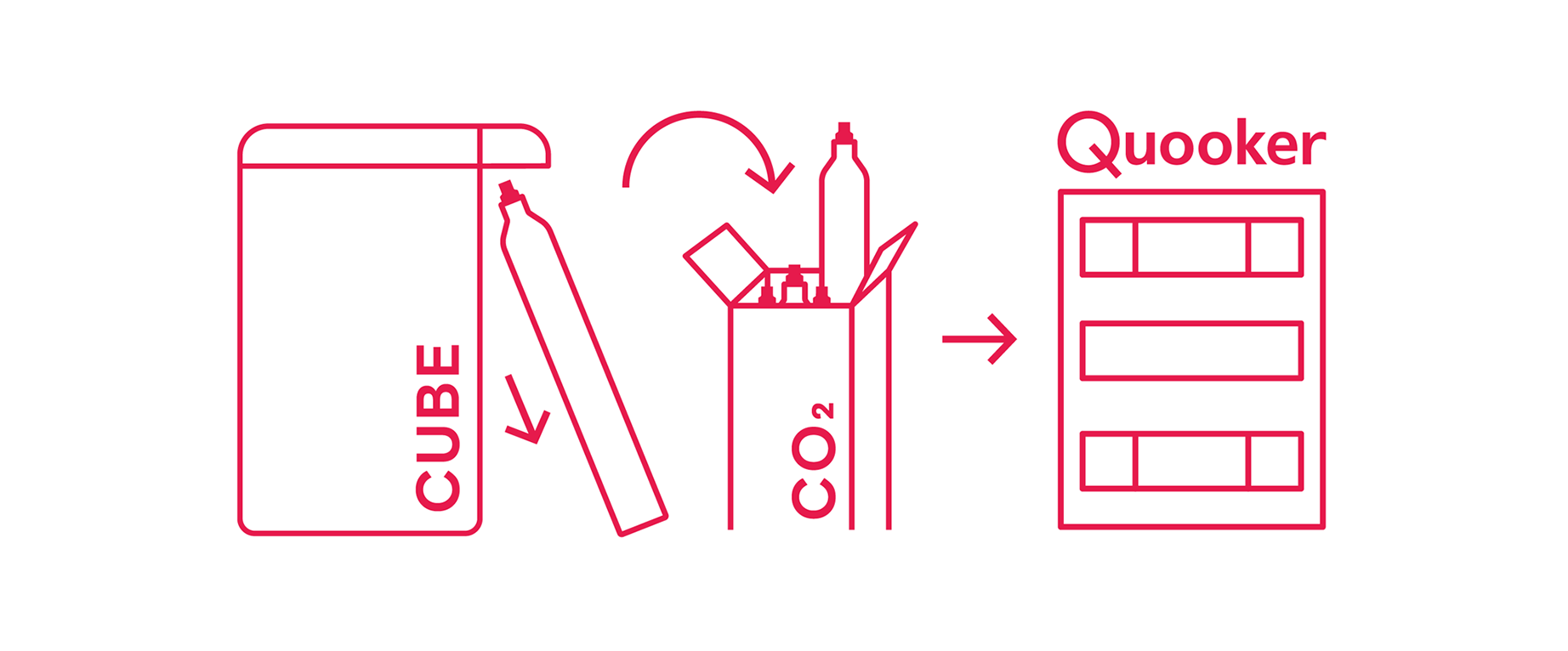 When should I order a new set of CO2-cylinders?
One CO₂ cylinder is supplied as standard with the installation of your Quooker CUBE. We recommend that you order a complete new set of 4 CO₂ cylinders directly, via our webshop, so that you always have sufficient stock. This way you will always have 5 CO2 cylinders As soon as you start using the last full CO₂ cylinder, you can order a new set of 4 CO₂ cylinders via our webshop. You can then immediately register your return of a complete set of 4 empty cylinders and return them free of charge. You can download your personal return label easily via your account from 'Order history'.
Consumption and costs
Consumption differs per person. One set of 4 cylinders may even last a year. As soon as you have placed your second online order, we will know that we can expect a return shipment of a complete set of 4 empty cylinders in the near future.
If empty cylinders are not returned, or not in a complete set of four, or in damaged or unusable form, HKD 250.00 will be charged to recover the cost of the empty cylinders.
Do you have an extra cylinder in your possession due to a service visit or some other reason? Let us know if you need to return 5 or more CO2 cylinders by sending an email in advance to: info@quooker.hk
Step 1: Download return label
During the ordering process you can indicate whether you have a complete set of 4 empty cylinders to return back to us. This will probably not apply until your second order.
At the end of the order process you can easily download a personalized return label via account overview > my orders > download returnlabel.
You can use the return label associated with your order only once. Once your return has been processed, the return label will no longer be visible in your account overview.
A return label can therefore only be used once per set of 4 empty cylinders.
Step 3: Confirmation of return delivery
As soon as we have received the set of 4 empty cylinders and your return has been processed correctly, you will automatically receive an e-mail with a confirmation of your return delivery.
Step 2: send your package
Return your empty cylinders by the transport company, so that they can return the package to us free of charge. Always use your personal returnlabel which you can download via your order history in your account. Make sure it is clear and visible on the package so your return can be processed correctly.
Service items and accessory returns
Did you order a service item or accessory and are not satisfied with your purchase? Or did you receive the wrong product? Complete the following steps and return your order within 14 days of receipt.
Step 1: Register the return
Register your return of an incorrectly ordered or received item via this email: info@quooker.hk
Enter the required information, indicate which products you are returning and the reason and/or whether you would like your purchase amount refunded or to receive a replacement product.
Step 2: Confirmation by email
Once your return registration is approved, you will receive confirmation by email within 1-3 business days.
If you would like to exchange your order, a new product will be sent to you, including a return label for returning the old product. If you prefer a refund, you will receive a return label by email.
Step 3: Send the return parcel
To ensure a successful return process, the product must be unused and undamaged and if possible, packed in the original packaging.
Use the return label and place it visibly on the outside of the parcel. Always ask for a delivery receipt and make sure to save it.
Need help?
Do you have a question that is not answered here? Send it by email to info@quooker.hk.
Step 4: Confirmation of the return shipment
Once we have received your parcel and completed a successful return process, you will receive an email automatically within 10 business days confirming your return.
If you have chosen a refund, the purchase amount will be refunded within three business days of confirmation to the bank account used to pay for your purchase.